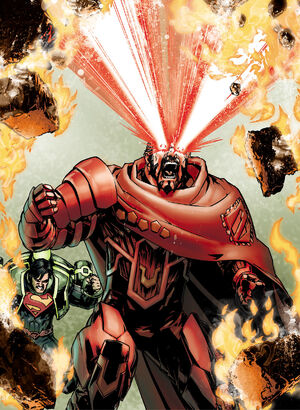 Zod was born to scientist parents. When he was a young boy, Zod and his parents traveled to Krypton's wilderness in order to discover new creatures. Their ship was attacked by creatures, leaving the family stranded in the jungle. While his parents were killed by the animals, Zod managed to survive for one year until Jor-El and his older brother Zor-El saved him. After reaching adulthood, Zod became one of Krypton's best soldiers, attaining the rank of general. Zod developed a hatred towards an alien species called the Char and secretly ordered the creation of a Char-looking creature, unleashing it on Krypton's population, so he could justify a war against the Char. Jor-El discovered the deception and turned Zod over to the authorities. The council found Zod guilty of treason and banished him and his closest followers, Faora and Non, to the Phantom Zone.
Powers and Abilities
Edit
Ad blocker interference detected!
Wikia is a free-to-use site that makes money from advertising. We have a modified experience for viewers using ad blockers

Wikia is not accessible if you've made further modifications. Remove the custom ad blocker rule(s) and the page will load as expected.