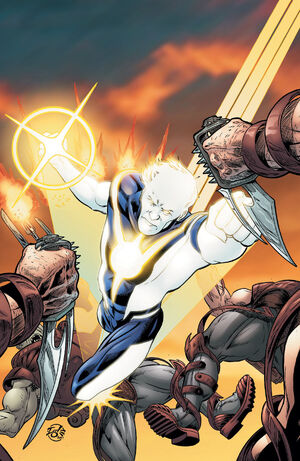 Lucien Gates is a Korean-American San Diego County Lifeguard who, while on duty, was caught in the path of a particle beam. The beam, accidentally fired from a solar energy cannon commissioned by an unnamed government agency, mutated a number of living organisms before striking Gates. The resulting energy transformed him into an energy manipulator, able to fly at superhuman speed, fire various energy beams and create illusions.
Powers and Abilities
Edit
Distinctively, Gates cannot direct his flight as is common for airborne superheroes, instead travelling in a straight line as a literal ray of light. To change direction he must strike a reflective surface, though it does not appear he is bound by the normal mechanics of specular reflection and can "reflect" at any angle (perhaps more akin to a swimmer kicking off from the edge of a pool than true reflection). When necessary, he can reduce his speed and even hover.
Ad blocker interference detected!
Wikia is a free-to-use site that makes money from advertising. We have a modified experience for viewers using ad blockers

Wikia is not accessible if you've made further modifications. Remove the custom ad blocker rule(s) and the page will load as expected.